how to use
For Application of Royal Henna & Royal Silk Premium Henna.
Color Preparation :
Getting ready to color.
Avoid washing hair for at least 24 hours before applying hair color.
Do not use if your hair has been recently permed relaxed, wait for 7 to 14 days.
Have a comb and dry towel to hand.


Read the below instructions and respect the application time.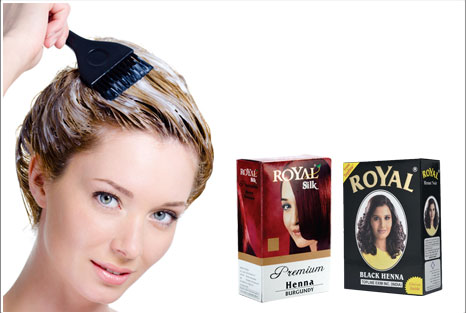 Step 1. Mix



Empty the Entire Quantity of the Sachet In a Bowl.



Add Luke Warm Water.
Add 2 Drops of Shampoo.


Mix it Well to Make a Fine Paste.
(Use The Paste Immediately)


Step 2. Apply


Wear glove and cover the upper part of your body with a towel or cap.



Using a fine brush apply the paste evenly across the entire area you wish to dye applying from the roots to the tips of your hair.

Development Time : After applying ROYAL HENNA, allow a minimum time of 45 minutes for the dye to develop or until the hair is completely dry.


Step 3. Rinse


FOR SINGLE USE ONLY... Do Not Use The Remaining Paste.
Sensitivity Test :
This product is for external use only. It should not be used for dyeing eyelashes or eyebrows. To test allergy, first apply the paste within inside your elbow and let it dry. Examine the test after 48 hours. If there is no redness or itching, go ahead safely with the use of ROYAL HENNA and ROYAL SILK PREMIUM HENNA.

Wash your hair thoroughly with shampoo and let it dry. Avoid contact with eyes while washing.